As YouTube proves to be the second most-visited site, where users tend to spend up to six hours per day, promotion of your channel can result in great success. YouTube has always been a source of entertainment content, especially concerning the sport.
According to facts and figures, a significant portion of your potential viewers already are YouTube active users. The popularity of YouTube as a powerful marketing tool increases at an incredible speed.
As a result of Covid-19 pandemics, the watch time of sports-related content on YouTube has increased enormously. However, if you want to stand out on YouTube, you need to take advantage of numerous marketing tactics, including the secret powers of your email signature generator.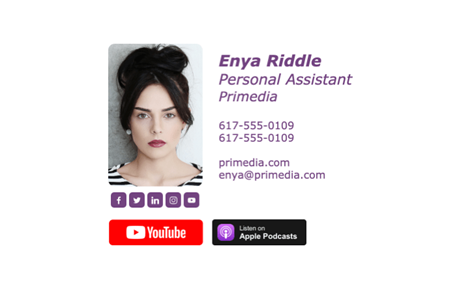 Below are vital tactics for promoting your YouTube sports channel and maximizing your viewership. Whether you are just starting or you are a well-known sports channel owner, these tips are a fair game in any case.
Create unique content. Don't be somebody's copy
Content is king in any way, yet in the case of YouTube, video content is king. To create and further maintain a successful sports channel, you`ll need to set aside a great deal of time to plan, film, edit and analyze your content.
However, a top characteristic of your video content is its uniqueness. Viewers appreciate fresh, engaging ideas and exclusive content styles more than anything else. To come up with such an idea:
Determine your video goal. You need to know what goals you will accomplish using this video even before writing a script.
Apply storytelling to create the video storyboard and write the lines.
Decide on the additional multimedia elements. Consider adding graphs or slides.
Determine the video length.
All these small details will help to make your video content exclusive and even more appealing for viewers.
Cross-promote on your other channels
People often forget the power of other promotional channels when they concentrate on YouTube. However, the key to being popular online is to be present everywhere and have followers on all the relevant platforms and channels.
If you happen to have loyal followers on Facebook, more likely they will become true fans of your YouTube channel as well if it is introduced and promoted correctly. Furthermore, YouTube itself encourages posting and linking on various platforms to get even more users.
Here are some tips for you to lead new viewers to your YouTube channel:
tease your existing fans base on other platforms with hints on something new to come on your channel.
make it easy for new viewers to find and follow your channel.
squeeze everything possible out of your older content by organizing engaging playlists.
utilize unique hashtags to make your videos easily recognizable across the platforms.
Embed it into your email marketing
Email marketing may seem old school, but the truth is it remains effective.  66% of marketers say that emails are worth the effort and investment. Therefore, missing such an opportunity would be a significant waste, considering it doesn`t require much.
Create lists of your YouTube channel subscribers and give them heads up every time you release a new video. Furthermore, the emails will help to keep your audience engaged and active.
Use your email signature as an additional channel
Besides, email marketing applications open the world to a different marketing channel via email signature promotion. This small area in the footer of your email is more than just a signing off the letter.
Essentially, doing email signature advertising is like using a business card with super words. If done right, it may turn into workable low-cost, and high-return marketing channels. Some of the best email signature examples prove to turn regular interaction into quality leads quickly.
Even if your fundamental goal is not sales, email signature marketing is an excellent option for you. Adding social media buttons and linking directly to your YouTube channel is a non-intrusive way to attract new viewers and expand your viewership every time you send an email.
Include strong calls to action
Quite often, a mere asking for engagement appears to be the most effective way to get it. In the case of s sports YouTube channels, this means placing a clear and eye-catching CTA.
Not everyone who enjoys your video will remember to put a like, comment, or make a share. Sometimes, it is essential to remind the viewers about such options and motivate them to take action.
Especially when you are a newbie, there is no shame in asking for love and appreciation. Asking visitors to view more videos or share their impressions is an elegant way to warm up the engagement.
Make live stream part of your content
Giving live streaming a try is a risky and challenging decision. However, the results promise to be striking as well. As live video is one of the major social media trends today, it is better to take advantage of it right now.
Don`t worry if your live streams go as smoothly as you expected; practice makes perfect. The realistic picture and unpolished effect is the most appealing part of live streaming.
Pay attention to the visual design of your channel
Whether you are having your personal YouTube channel or a branded one, a great deal of your effort should be directed at supporting your video content with an appealing and consistent design.
The following features characterize a well-designed YouTube channel:
appealing and consistent color scheme
attractive `channel art` header
high-resolution channel icon
engaging channel trailer
well organized categories, playlists, and series.
In general, the channel should feel cohesive and easy to navigate. It is essential to provide a consistent look that will make your viewers feel at home on your channel.
Conclusion
Growing your YouTube sports channel viewership won`t happen by accident. It requires a strategic approach, planning, and investment of both time and money. Be ready to take part in a fierce competition.
Therefore, it is advisable to apply multiple marketing tactics at the same time. Although some of the tips mentioned above require more time and effort, consider at least giving them a shot one by one to grow the scope of your marketing efforts and the eyes attracted towards your channel gradually and qualitatively.