What is Build With Chrome?
Build With Chrome is a web application for Chrome that allows the user to creatively build realistic structures using Lego bricks. It's a platform developed by LEGO and Chrome collectively, for people to build within Chrome's browser. The creations are placed on real life geographical maps, so one might find a Lego model in Google Maps.
How does Build Lego With Chrome  Work?
For building a structure, two piles of Lego bricks are available and different keyboard and mouse commands can be used for controlling the build process. Later, a detailed build academy was added to help users get more creative which teaches the process and provides tips to build with Lego. Initially, the user has to share their location and is allotted a space that looks similar to a Lego baseplate. However, one can zoom in any chose any geographic are on which the entire Lego model will be based. In order to unlock additional bricks, the challenges have to be completed.
Other local models are also available on the world map and even Lego models of the actual structures can be found. Therefore, if all the structures in a town are built by different users, the entire town would get a Lego representation of its real-life version. While developing a Lego model, one designer can have only one baseplate and models can't overlap pieces of another baseplate. There are a few technicalities to follow while building a model but all in all, it's a great platform to showcase your creativity and build structures from your imagination in the virtual world.
Browse the map and find an open plot to get started and or have Build find you one by clicking the Build button which is blue in color. Every plot is a 32-by-32-peg square and a user is initially given 1,000 virtual Lego bricks to use. As you complete different Build challenges, you unlock more bricks to use further. The bricks are available in ten different colors and types with two extra types, a door and a window. You can make a selection from the left panel and then drop them on the right hand side. To place a brick, left-click on the plot and to move it, right-click on it. To align your bricks in the direction you want, use the rotate button in the left panel. By holding down the space bar while moving the mouse you can rotate your plot to view it better while working on a particular area. After your done working on it, you can publish your creation by clicking the green Publish button present in the upper-right corner of the screen.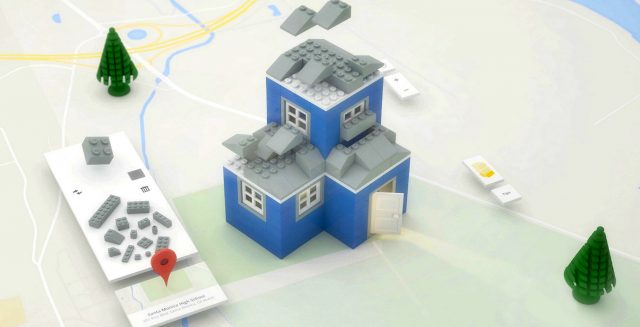 Sharing and Access
The models or creations can be shared and you can view models created by others through Google+. All models shared on Google+ are public and can be viewed by any Google+ user. Since the models are public, the creators' Google+ names are also public. One can even view the geographical address of the model placed on the map. You can even share your model through email. However, for your model to be seen on the map, it needs to be approved first by Lego.
Any browser enabled with WebGL can access Build With Google Chrome. This includes Safari, Firefox and all types of mobile browsers. Once you select you choice of browser, WebGL's site will inform you if the selected browser supports it.