These days the desire for encrypted services has been increased, so the apps like WhatsApp's and hangouts, hike, and all the instant messaging apps are on the rise. Although there is a rise in other messaging apps, the WhatsApp always leads the chat. To ease your data to day use here follows few WhatsApp Tricks.
It always leads the chat because Whatsapp is the world's popular instant messaging app for a lot of good reasons– it always gets a regular update and has lots of features, and it supports a wide range of devices.
The stats show its popularity, In recent stats there are more than 1 billion people now use WhatsApp every single day, and they often send more than 55 billion messages and 4.5 billion photos to others through the WhatsApp. Not only that they also send 1 billion videos per day so with these numbers you can get a clear picture on WhatsApp.
These numbers say all about the WhatsApp. So, people always love to use WhatsApp, now if you are a WhatsApp users means you should know all these WhatsApp tricks and tips to use WhatsApp correctly. But  If you don't know them means you are slightly back than others.
So, why stay back check out this post which says about the 20 best and essential WhatsApp tricks you need to know to have fun and also to use WhatsApp with ease.
Let's get into the 20 best and essential WhatsApp tricks;
20 Best and essential WhatsApp tricks:
1. How to create bold, italicized, or strikethrough text:
This is one of the easiest and simple tricks in WhatsApp. Although few people know about this trick but most of the WhatsApp users still don't know this trick. So, i am listing it out in the 20 best and essential WhatsApp tricks. If you are one of them, then have a glance at this point.
To start with this simple trick all you have to do is put an asterisk (*) in front and at the back of the word to make it bold.
Ex: If you need to bold must see as bold means you should type like this *Must See*
Similarly, the same goes for the italic, but instead of using (*) you should be using an underscore (_) on either side of the word.
Ex: _Must See_
In the same fashion, you can strikethrough the text by using the tilde (~) at the start of the word and at the end of the world.
Ex: if you want to strike through "Must see" means you should be typing "~Must See~." Similarly, you can use this step for passage, sentences or paragraphs as well.
In this text, you can also create a monospace text just by simply adding three grave accents ("`) to either side.
From small texts, it is fine, but for more text, you need to change the process.
However, for more text it there is an easier process. You can just highlight the word or passage you need, and then you should tap "more." After that simply choose Bold, Italic, Strikethrough or monospace from the drop-down menu. Although this doesn't work for all types of devices but it works for modern devices. So, its worth a try, if you cant does succeed in this process means you can check out the above points it will always work. This is Best and essential whatsapp tricks so i have included this in the post.
2. Find People with Live Location Feature WhatsApp Tricks:
The Live location features is a useful feature in WhatsApp. This feature allows you to quickly share the real-time location for a specific amount of time with the particular friend or group member or with other private groups as well.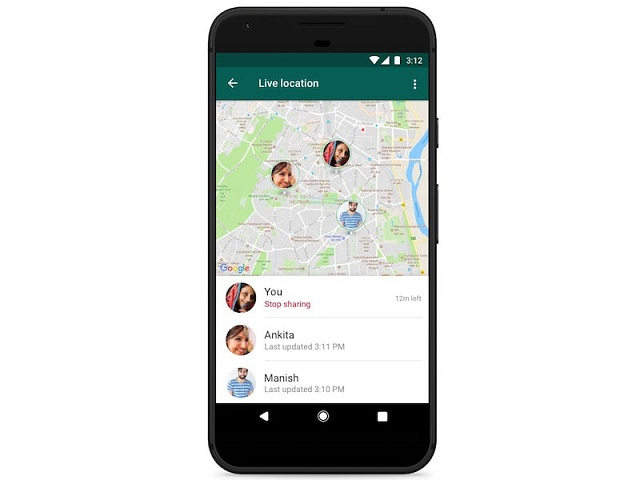 If you want to find people with the live location means, you should be using this live location feature in WhatsApp. With this feature, you can share your location.
To share location, all you have to do is open a chat, and tap on the plus sign. After that, you have to select the location where you will see the option "Share Live Location." If you click that button means you share the live location, it is one of the best ways to find someone even in a rushed place.
3. Quote a message in Response:
If you want to quote your message in response means you can do that quickly with this WhatsApp trick. Usually, most of the people love to quote, and it is one of the best skills to manage the context in WhatsApp.
Now, if you want to quote someone, then all you have to do is hold the desired message and then click on the arrow icon that points to the left (This arrow is the first arrow which appears on the top) so don't get confused.
From there you can write your response with the desired quoted message attached for everyone to see it.
4. Stop Auto-downloading option via Mobile Data:
Want to save your mobile data by stopping Auto-downloading option.  Then take the help of this trick and save your mobile data.
Usually, there are few different ways to save mobile data in WhatsApp while usually it for calls, messages, and notification. In that few ways, the first way is by disabling the app's media Downloading ability.
Process:
Head over to the settings.
Then click on Data and Storage Usage.
Then click on when using mobile data.
From these settings, you can simply check or uncheck the option downloading documents, photos, audios, and videos via mobile data.
For this way actually, need to tap on the file to download it. So, if you want to save massive mobile data, then you have to uncheck videos because these videos are huge in data, so its best to uncheck that option to save your mobile data. This is always a Best and essential whatsapp tricks because it is useful for all.
5. Want to get a breakdown from WhatsApp data usage? Then try thess essential whatsApp tricks.
Nowadays all the android phones are coming with the data usage tracker. With this feature, you can just check which is consuming more data. Along with that, it allows you to get an Apps data consuming "Stats." Whatsapp is also having a tracker similar to this. But this tracker will give category wise data break up.
Now if you want to access this feature in Whatsapp data usage log means follow this process:
Go to the settings tab.
Click on Data and storage usage.
Then finally click on Network usage.
In that network usage, you will find an option " data usage related to google drive, roaming and WhatsApp calls, messages, status updates, and overall usage stats.
In this massive list of stats, you can find out everything you need. But the only drawback of this process is it combines both the cellular and wifi data.
6. Use WhatsApp in a web browser:
Some people always want to access WhatsApp on the web browser. If you are the one who often likes to chat on web browser means you should be using WhatsApp web feature.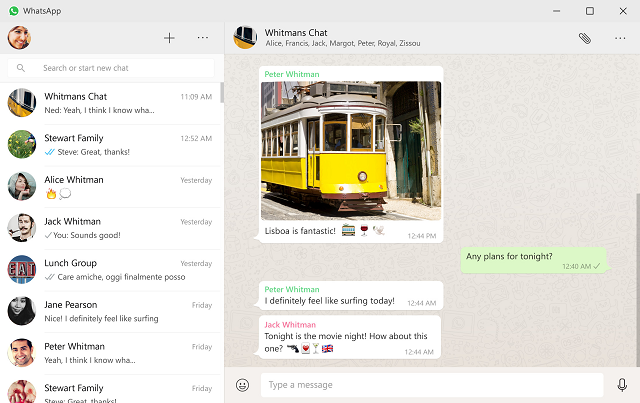 Whatsapp now has a web browser version which can be directly connected with your mobile. You can chat on your PC or laptop with this option.
To use WhatsApp on the web browser or PC.
Just hover over to the web.whatsapp.com in a browser.
Then open your mobile device and open WhatsApp on it.
Click on the options button in the mobile WhatsApp which is present at the top right-hand side.
Then just click on the WhatsApp web from the option.
Now it will display QR code just scan that QR code which is display on PC with your mobile.
That's it you can access WhatsApp now in your web browser. This is one of the Best and essential whatsapp tricks you should know right now.
7. Comfortably transfer files to and from PC:
The best thing about the WhatsApp web is that you can quickly send or receive data on your mobile via WhatsApp. This makes this feature as the unique feature because it can transfer image or screenshots from the mobile to your PC without any sort of help from Data Cables/
Here all you have to do is just send images you like to any of your friends mobile and then on your PC open the what web and download the image. It is that simple to transfer files to PC. so dont miss this Best and essential whatsapp tricks.
8. Want to Back up your WhatsApp data? Then Backup conversations to the Email with this method.
In WhatsApp, you can back up your conversation to your email. Here all you have to do is open the chat you want then click on the options — Tap on the more — Then click Email Chat.
After that, you can simply follow the on-screen instructions displayed on the screen. You can backup conversation individually. In this case, you got two options one is sending the conversion with media and other one is without media. Whatsapp can only help you to send 40,000 messages max. It cant send message above that.
9. Check breakdown of storage by Contact:
Whatsapp has a special feature where it can break down the storage by contacts.
Process:
Go to settings.
Data and storage usage
then storage usage.
This can show some impressive stats. Breakdown feature helps you to shop rankings of storage which is used by contacts.
10. Remove flies from your storage:
Apart from having a glance at this you can do more with those contacts. You can erase these files from your phone if you want to wipe them.
To erase all you need to do is visit a storage usage section then open (Settings — Data and storage — Storage usage). From that option heave over to the " manage messages." you can then choose categories to clean them. If you want to clear msg chat means you can simply clear chat with the option in WhatsApp setting.
11. Request Account Information in Whatsapp:
If you want to request account information means you can do that. These days WhatsApp allows you to request a ZIP file of your account info & settings.
Although this doesn't, have your message though, but it will have your "Account name, profile photo and other details about the profile."
Now to choose this option all you have to do is go to the settings — Accounts — Request account info.
After that click on " Request Report."
This is will take a couple of days to get the report. However, if want to delete your account then you can't view that file in WhatsApp.
12. Enable the Two-step verification method:
Whatsapp has a two-step verification method. By default, your WhatsApp asks for a top when changing devices. Along with that, there is another option in WhatsApp that is Two-Step Verification.
This helps you to access your account on the new phone with ease. Now to activate this follow this process:
Go to the settings.
Click on Account.
Head over to the two-step – verification.
From there just follow the on-screen rules and create a six digit pin.
You can also add the email address so it will be helpful when you lost your sim to verify.
13. Want to backup your message to Local or Cloud Storage:
Now if you really want to back your messages and chats to the local or cloud storage means you can make use of this trick.  To back just open Go to settings, then click on the conversations and then click on the chat back up and finally tap back up button.
14. Keen to know when your message got to read:
Most of you might already know about this trick that grey tike means the message are delivered but aren't read by the users. Blue ticks indicate which are read by users. If you want to know the time means just follow the below process.
See the message info on the screen.
Check all the sent message details.
Then open a chat and tap & hold the sent message.
Click on info (or i )button from the action bar which is at the top.
15. Privacy options techniques:
The privacy options are the crucial feature in WhatsApp. If you are the one who doesn't want to enable your details and profile. Then you can just update your settings and keep it to away from others by allowing privacy settings.
Click on options — settings — account — privacy.
After that option merely choose whatever you want to hide from others such as status, profile pic, etc. You will have three options to select one is Everyone, Nobody and my contacts. So choose the best choice you want in that three. This is the Best and essential whatsapp tricks you should know for better accessing whatsapp.
16. Want to check who read your group message:
Are you striving to check out who has read your group message then you can use this technique? Here all you need to do is hold on your message until it got highlighted. After that tap on the three dots menu and choose "info" from the options. From there you can check out how has and how hasn't viewed your post.
17. How to mute and block contacts:
If you want to mute or block some of your contacts means you can do with this best and essential WhatsApp tricks. As people can be easily annoyed with the too many active conversations. Every message makes us frustrated with annoying notification.
So, if you want to mute conversation means just open the discussion which you want to mute. Either it is a WhatsApp group or contact. Just click on the options then go the group info and simple click on mute and set mute option.
This can help you turn off notification for a while in your android group. Now coming to the blocking contact, all you have to open particular chat and click on options.
Then select more button and after that click on Block. This point is useful so i have included this in Best and essential whatsapp tricks post.
18. View all blocked contacts:
If you want to check the blocked contacts list to remove someone from the block list means head over to the settings — account — privacy.
Then you need to scroll down to the message section and just click on the " Blocked Contacts." That's it. This is one of the Best and essential whatsapp tricks you should know to quickly access blocked contacts.
19. Want to Use Multiple Whatsapp Accounts? Then use this trick:
Most of the people want to use multiple WhatsApp accounts on their multi sim device. So, if you are one of them then check out this process.
As you want to create multiple WhatsApp accounts, there are many WhatsApp Tricks. In that Android lollipop is the easiest way as it is allowing multiple users on the same device.
Go to the Android Settings.
Head over to users.
Then to Add users.
Create a new user.
Log in using the new account and then install WhatsApp.
This is one of the best WhatsApp tricks  so I have mentioned it in this topic Best and essential whatsapp tricks you need to know.
20. Want to schedule message on WhatsApp then use these WhatsApp tricks?
If you want to schedule messages on WhatsApp then officially you can't do anything because WhatsApp is not having that feature. But with the help of a third-party app you can schedule your WhatsApp message. You can make use of this "Scheduler for WhatsApp" app to do your task.
Just download & install the app.
Go to the phone settings.
Accessibility and then to services.
Activate WhatsApp scheduler.
This will help you to schedule WhatsApp messages. That's why this is one of the Best and essential whatsapp tricks you have to know.