With the new health and fitness trend going on many people are being more conscious of their health. To get back on track to a healthy and fitter lifestyle many of us are taking up some sort of physical activity. One such activity is hiking. Being outdoors, taking in your surroundings not only leaves you in peace but is also rejuvenating for body. With hiking also comes the need for hiking gear. One important tool required in your hiking arsenal has to be a compass. Of course in such trips you can't afford to lose track of time too, so why not combine a watch with a compass? In this post we'll be taking you through some of the Best Compass Watch to own.
3 Best Compass Watch to Get in 2020
Suunto Core All Black- Go Military Style with this one: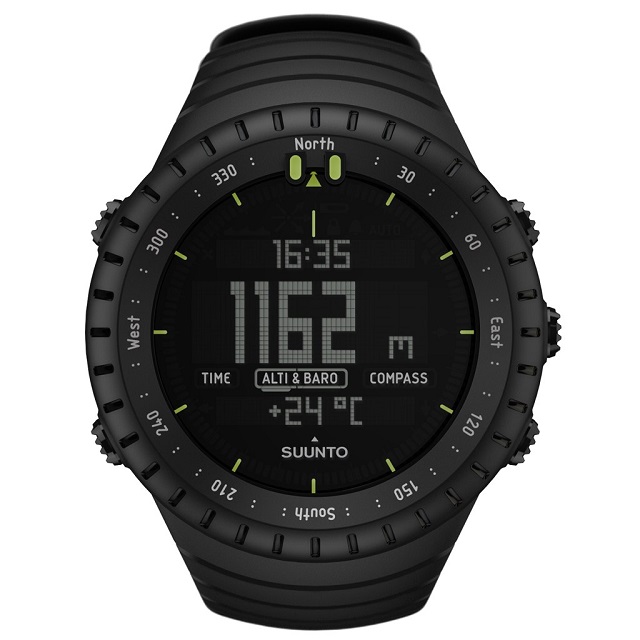 This watch is military grade in that it has a lot of outdoorsy features. Some of these features include not only a compass but also an altimeter, a thermometer and a barometer. The altimeter tells you how far top you've gone while the barometer tells you the air pressure. Thermometer, you know what a thermometer does.
The watch keeps you updated with your surroundings so you can just concentrate on rejuvenating body and mind. By the way, another cool feature this watch has is a storm alarm, which sounds in case of an impending storm.
G-Shock Rangeman GW-9400 as one of the Best Compass Watch to own: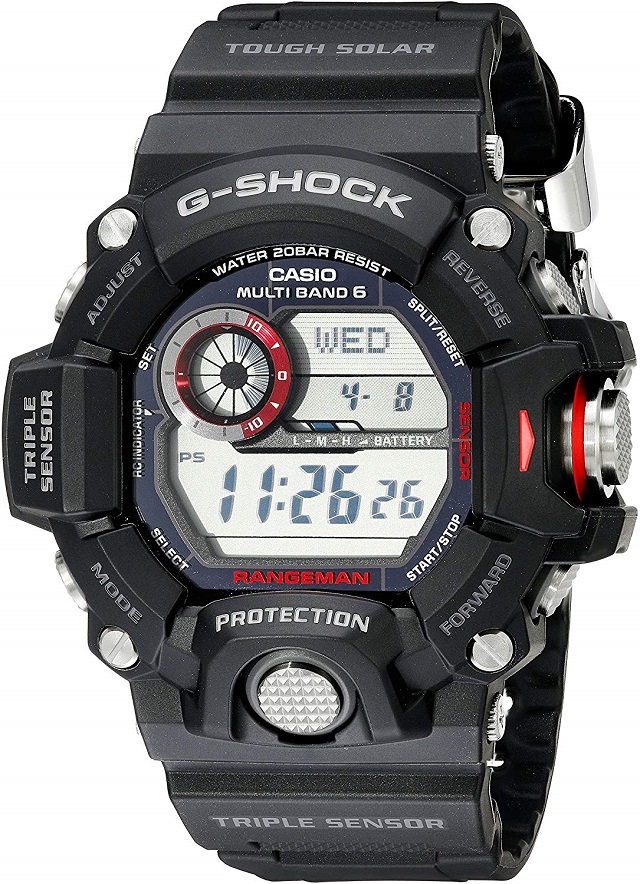 This watch has a thermometer too. Besides this, the watch has a slew of high end features that you just need to take a look at.
Some of the other features include red contrasts and a number of displays making this watch easier to navigate through.
The other interesting thing about this watch is that it is made of stainless steel durable material which makes it almost impervious to any kind of damage you can think of.
Oh! Did I mention- it is solar powered too.
The dial window too has a mineral crystal covering that can take anything you throw at it. The watch also includes a thermometer, altimeter, barometer and of course what we're here for- a compass as well. This is one of the Best Compass Watch that is both functional and attractive.
Best Comass Watch- Casio Men's Pathfinder Triple Sensor Watch: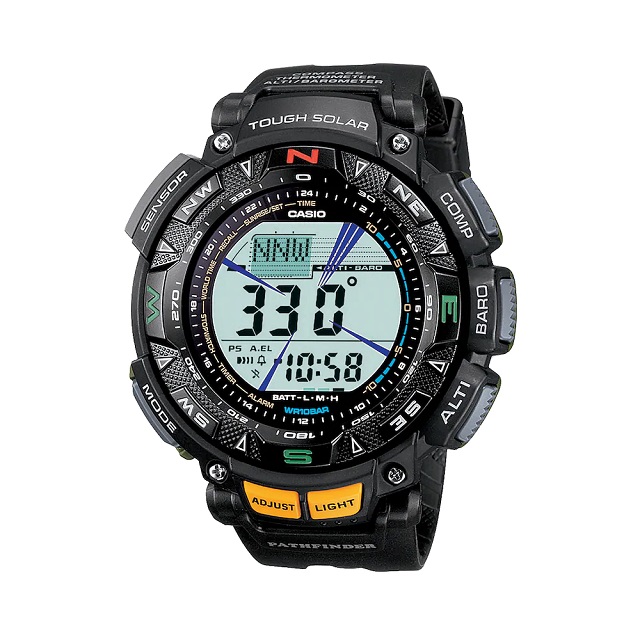 This watch is meant for the outdoors, with its functionality and solid build it is capable of taking any outdoor setting.
Besides having an altimeter, barometer, thermometer and compass just like the other watches in this list of best Compass Watch, it also has a city code display. Some of the other interesting features also include a world time display and a backlit for those low light times.
The battery on this watch will last you a good 6 months. This is however with low exposure to light. This watch actually solar powered meaning that it won't really run out of juice anytime soon.
These are some of the Best Compass Watch to use on your next hiking trip.