If you are looking for an ideal landscape lighting solution, outdoor solar lights are probably the best choice. These are affordable, and you can install them with ease. In addition, these allow you to place yourself exactly where you want. It is because these don't need plug-in power sources. But you must consider the placement and purpose of their usage. Let's dive into the article to know the best outdoor solar lights.
What is Outdoor Solar Light?
It is a lighting system containing LED, solar panels, battery, charge controller, etc. So we can call it a solar lamp or lantern.
How Do Outdoor Solar Lights Work?
Usually, outdoor solar lights contain key components like solar cells, rechargeable batteries, photoresistors, and lightbulbs. These cells capture the sun's rays and convert them into electricity during the day. On the other hand, photoresistors turn on the units at night while detecting the absence of ambient light. The solar light bulb continues to stay on until the batteries run out.
Best Outdoor Solar Lights:
1) Aloft Sun Motion Sensor Solar Lights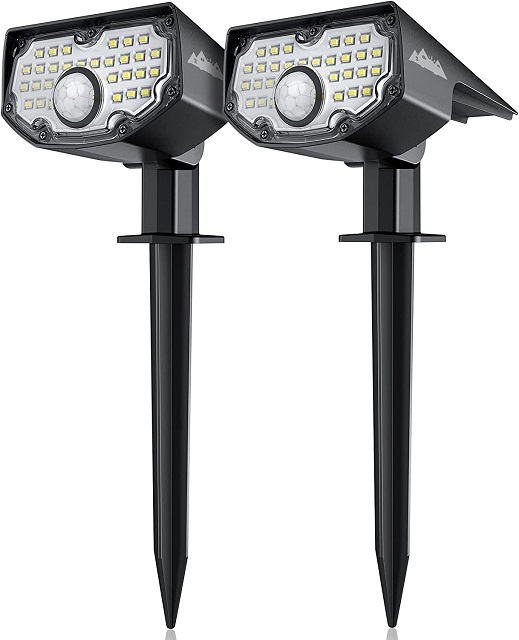 Description: This product is simple to use and bright enough to read. These lamps can detect motion from even 33 feet away based on the setting. In addition, it comes with three modes that operate from dusk until dawn. Thus, it can easily meet your needs.
As the model comes in two pieces, you can put these easily. You can stake them into the ground or mount them onto a wall with the included hardware. Besides, it has 30 LED chips to illuminate your pathway or yard easily. In addition, it can offer a 40,000-hour lifespan. This pick is excellent if you want to buy a durable model.
Features:
Bright Motion Sensor: These are brighter than other models because of thirty top-quality LED chips. You can get more uniform brightness from these lamps. Besides, the product comes in a default PIR sensor. In addition, it can provide a 120° detection angle and 33ft sensing range. Wind frost or rainwater can't trigger the range except for humans, animals, and cars.
Auto On/Off: These outdoor solar lights with an On-Off switch come with light and motion sensing functions. When they detect dusk surrounding, these will power on automatically. In addition, these remain turned off during the day and charge in the sun.
Longer Runtime: These outdoor solar lights for the walkway can offer a 21.5% conversion rate with the high-efficiency black monocrystalline silicon solar panel and 2200 mAh rechargeable battery. In addition, these can convert sun rays into more electricity than others under similar conditions. As a result, these can run for more extended periods and keep the brightness for a long time without darkening.
IP68 Waterproof: The modern high-impact ABS plastic and advanced waterproof technology make the product ideal. It has an excellent IP68 waterproof rating. Besides, these lanterns have high-temperature resistance and snow and frost resistance.
Excellent Quality: The Solar led lights outdoor get certifications and appearance patents issued by CE, RoHS, MSDS, UN38.3, etc.
Pros:
Great Waterproof Rating
Three easy-to-use modes
Two installation ways are available
Cons:
2) Brightown Outdoor Solar String Lights
Description: It is an excellent option if you search for a budget-friendly alternative to adding ambiance to your outdoor space. This model comes in nine colors. Besides, you need only two stakes to install its panels. In addition, you won't require electricity for them to work.
The eight modes, combination, waves, sequential, slow glow, chasing/flash, slow fade, twinkle/flash, and steady-on, can give you several fun options. Therefore, you will get multiple choices for gatherings or holidays. While turning on at night automatically, the extra large outdoor solar lights can run for ten hours. But these can turn off for sixty seconds. So ensure to place the panels where they can get Sunray. It is ideal for those willing to add a fun element to your outdoor decor.
Features:
Excellent Led String: These unique outdoor solar lights contain 100 super bright led bulbs. Besides, these offer a steady 360-degree viewing angle to illuminate every direction. In addition, these can create a warm white soft glow offering a festive touch to different areas like lamp boxes, porches, gardens, yards, patios, balconies, etc.
IP65 Waterproof Functionality: The cheap outdoor solar lights are made to stand in any weather, either rain, sun, or snow. All components are IP65 waterproof. Therefore, it becomes ideal to use for both indoor and outdoor usage without any worry of short circuits or weather damage.
High Efficiency: This one of the best outdoor solar lights comes with an adjustable panel and an inbuilt rechargeable battery. These features make the model highly efficient without needing a battery or electricity. It can run up to 8 to 10 hours after a full charge. In addition, there is the flexible copper wire which you can twist and shape to the patterns. Besides, you can wrap around greenery, plants, flowers, shrubs, etc.
Pros:
Budget-friendly
Includes an extra set
Cons:
Not too many placement choices
3) Vont LED Outdoor Solar Lights
Description: These solar wall lights outdoor models are excellent when you want to illuminate an ample space or specific focal point and don't think about electricity or wires. You can put them together easily on the ground or mount them on the wall using the screws. Besides, these allow you to pivot up to 120 degrees to point in the exact direction you want. The lanterns turn on at night but don't provide other features except for two brightness settings. It is a good choice for people who find bright spotlights to withstand the elements.
Features:
Upgraded: The super bright sixteen LEDs can offer a 120° angle to illuminate your entire backyard. Moreover, its panels are durable and adjustable. In addition, you will find them more handsome than other 4-6 LEDs on the market. In simple words, you can find your landscape spectacular at nighttime.
Two Brightness Modes: Two brightness modes are available, including Low Mode (12 hours) and High Mode (6 hours). When your lamps detect the darkness, they can change their brightness. Then, it will switch from energy storage to lighting mode except for motion detection. The lights enable AUTO ON at night and AUTO OFF at sunrise.
Quick Installation: It is simple to set up and use. After sticking the model into the grass with stakes, you can use this as a solar landscape spotlight. In addition, you can mount it on the wall using included screws. Moreover, it can illuminate your garden, driveway, patio, pool, front doors, walls, garage, etc.
IPX7 Waterproof: These lanterns are made of high-impact ABS material with an excellent wireless waterproof design. It indicates that the model withstands rain and other extreme weather conditions.
Pros:
Durable
Waterproof
Two placement options
Offer 120 degrees
Lifetime warranty
Cons:
Only two brightness settings
4) Brightech Solar LED String Lights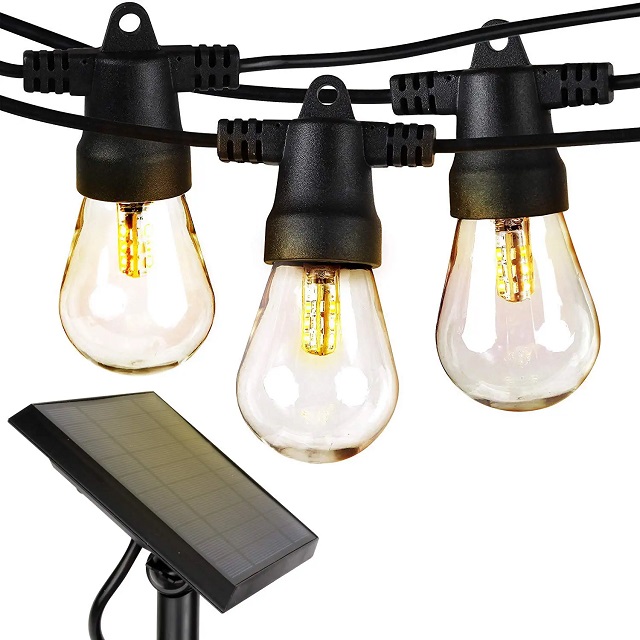 Description: You can easily illuminate your space with string lamps. These lanterns don't need electricity. You only need to stake the panel in the ground or clip it to a balcony or other surface. It comes with shatterproof plastic Edison-style durable bulbs. Besides, these can offer a 1,000-charge lifespan. In addition, these provide a full 2-year warranty. You should use these Waterproof solar lights for the garden, especially for decor or entertaining purposes. Generally, you are unable to connect multiple strands together. However, there is a 48-foot strand that you can use if you have the space.
Features:
Ideal: It comes with 27 ft long durable string lamps. Besides, the product has 12 LEDs and a detachable panel with an on/off switch. In addition, the bulbs last 20,000 hours, while the panels are rated at a 1,000 charge lifespan. Try to have the direct Sunray charge these LED outdoor solar lights. However, you can charge them indirectly and use them too.
Shatterproof S14 Bulbs: It features WeatherTite technology enabling it to withstand winds up to 50MPH, rain & snow. Besides, the outdoor solar lights for the shed work as shatterproof plastic shells offering up to 122 degrees Fahrenheit heat resistance. In addition, it has a flexible heavy-duty wire that can withstand indoor and outdoor wear.
Flexible Installation: The string does not require an outlet. You can place the panel anywhere with the included stake and clip. These are the ideal choices for balcony terrace, garden, Bistro, pergola, gazebo, tent, barbecue, city roof, market, cafe, umbrella, dinner, wedding, birthday, party, etc.
Elegant Ambiance: This one of the brightest outdoor solar lights uses vintage Edison Bulbs. Besides, these allow you to install them as a canopy over your porch or gazebo to offer a pleasant party ambiance. In addition, you can make your space enticing, relaxing and soothing. These can last 5-6 hours on a full charge.
Pros:
Excellent design
Versatile placement
Durable
Easy to install
Cons:
Unable to connect multiple strings
5) Kemco LED Cast Aluminum Solar Post Light Fixture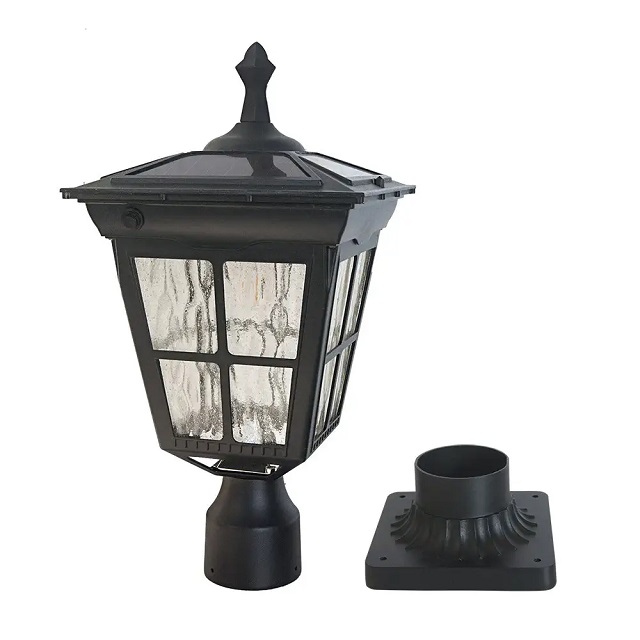 Description: This model can provide a stylish appearance to your decor while illuminating your entryway. You don't need any electricity or wires. However, it allows you to mount to a 3-inch-diameter round post or the included mounting base. Due to the presence of two pieces, you can put them easily.
Features:
Energy Saving: This product is powered by 100% free solar energy. Besides, it has four efficient panels top-mounted. Hence, you need to hit the switch button to the ON position. As a result, it gets enabled automatically at dusk and off before sunrise.
Simple Setup: You don't need any cords or electric wiring. It is very easy to set up.
High Brightness: These modern outdoor solar lights can shine about 135-145 lumens and are mainly for outdoor usage. You can bring this to the yard, patio, entryways, or driveway. There is no need to worry about raining, snowing, etc.
Vintage Design: It consists of durable cast aluminum and ripple glass. You can use these lamps for decoration and illumination for your home. It needs little maintenance.
Pros:
Bright, beautiful light
Excellent design
Two placement options
Simple to assemble
Cons:
What You have to Look For in an Outdoor Solar Light:
Type:
Based on the output, these fall into three general types: motion-activated, dusk-to-dawn, and timer-controlled. Solar energy is a limited source as it depends on cell size and battery capacity. Therefore, you must consider the decorative outdoor solar lights for shining and for how long. In this case, you can go with Timer-controlled lamps because these can provide the most control as it is possible to specify the time they turn on and for how long. Go with the best outdoor solar lights for trees if you want.
Dusk-to-dawn backyard outdoor solar lights use sensors to illuminate automatically at night. These remain and stay on until sunrise. But during winter, these lamps face issues storing sufficient energy to remain bright for an extended period per night.
Motion-activated lamps can turn on while being triggered by movement. These conserve energy excellently. Our AloftSun Motion Sensor Solar Landscape Spotlights are the perfect option in this case. It has three modes and two installation methods. Besides, you can use the lamps for specific needs, like outside your back door.
Installation:
Before buying any model, you need to determine how you install them. For example, a few models mount, like traditional light fixtures, using screws. Besides, you should use lamps with stakes to illuminate the path. In such cases, these are simple to install. You only need to push them into the ground and start using them.
The solar-powered string lanterns are simple to install. Usually, these come with a panel which you should place where it can receive a good amount of sun daily. Hence, you can use Brightech Solar LED String Lights. These can offer a great ambiance throughout the year.
Brightness:
The brightness ranges from 5 lumens for landscaping ambiance to 350 lumens for a strong spotlight. In this case, your requirements rely entirely on your desired location and application. Remember that various retailers provide various brightness options designed for different purposes.
Conclusion:
Our article has given an elaborate detail on outdoor solar lights. You can find here the top five products with their unique features. Choose any of these lamps you want for your purposes.
Frequently Asked Questions:
Do these lamps need direct sunlight?
If you place these lamps in direct light, they can collect more energy in their batteries. It indicates that your model stays on longer. If you want the best result, you should place them where they get several hours of direct sunlight. However, these lamps can work in indirect light or on cloudy days. But these don't collect too much energy in this case.
How do you install these?
You need to follow the instructions of the product to install them. Several lamps are available, which you can mount to walls using screws. On the other hand, several models come with stakes that you can stick to the ground. Finally, you need to arrange the panel to get many hours of sun rays throughout the day.
Usually, the batteries of these lamps last 3 to 4 years before replacement. While a few manufacturers sell replacement batteries, a few want you to purchase them. Hence, try to clean the panels regularly to increase lifespan. Besides, you should secure them from harsh winter weather.