If you notice, you will get to see that nowadays, the modern workplaces look different than they used to. People like to do jobs from home, keeping their privacy at the forefront rather than visiting office buildings. If you want to work out of the office, the right supplies are necessary which includes: the best router. Routers can give you a stable internet connection if you work from home. You can choose the best router based on important aspects like price, performance, etc.
What does a router do?
A router refers to a hub enabling your devices to access your internet. This one is actually the middle point connecting your devices with an internet connection. You should connect them to the router if you are willing to set up. Then, connect it to the modem. After that, you can start to surf the web.
How much do routers cost?
Based on the budget, you can find different types of router. You can get a product under $100, whereas a few models cost too much. The primary factors you need to consider before selecting the best router is budget. Therefore, you should look for those models which offer high-speed performance. If you want to purchase the best budget routers, you should know that these usually cost between $60 and $90. That means you will get many choices that cost below $100.
Top five best budget wireless routers:
Best Budget Router Overall— TP-Link Archer AX3000 (AX55):
Description: Want to purchase the best budget wireless router? Then, you can go for TP-Link Archer AX3000 (AX55) which ranks top in this list of best budget wireless routers. This model is capable of providing OneMesh support & enhanced stability over any budget router. If it comes to talking about real-world speed, 5GHz is capable of hitting 500Mbps at around 40 feet. But the 2.4GHz speed can only offer around 100Mbps at the same distance. The model swaps out the internal Intel chip for a Qualcomm one.
Features:
WPA3 support: One of the most interesting additions in this model is the support for WPA3, an excellent technology for security. The product includes OneMesh support allowing you to connect this to routers & Wi-Fi extenders supporting TP-Link's standard.
DoS protection: Denial-of-service protection via Homeshield & DNS relay is another addition of this model.
Ethernet: There are 4-gigabit ethernet ports for general connectivity in the back, four large antennas with beamforming, & a USB 3.0 port. The Wi-Fi 6 support allows this model to achieve high speeds at a range of 40 feet. This model also includes support for MU-MIMO. It indicates that connecting many devices is possible without experiencing lag or latency.
Pros:
Easy user-interface
OneMesh support
Improved stability
WPA3 support
Cons:
HomeShield Pro is not free
Upgrade Pick— ASUS RT-AX86U (AX5700) Dual Band WiFi 6 Extendable Gaming Router:
Description: The latest WiFi 6 (802.11ax) can allow you to enjoy a speed of up to 5700 Mbps. This router comes with 160MHz channels. Its mobile gaming mode helps to reduce lag & latency. Users need to only click on the ASUS Router app. You can access 2 Gbps WAN connections, wired 2.5 Gbps port & WiFi 6.
This router comes with several interesting features and you can enjoy a seamless network using this model. AiProtection Pro, which is powered by Trend Micro, secures the home network. If you are far from home, use ASUS Instant Guard to share a secure one-click VPN.
Features:
Quick 2 Gbps Internet:
The design of this router is done in such a way that all barriers are broken down. These barriers usually slow down the speed of gaming. It is compatible with up to a 2 Gbps internet connection. Therefore, unlocking the full potential of quick networking is possible for wired & WiFi connections.
Remove Network Bottlenecks: You can prioritize network traffic to run the network smoothly using the Adaptive QoS (Quality of Service). It allows you to prioritize apps like streaming video, web surfing, and gaming. The router is ideal for offering low-latency WiFi at any location in your home.
ASUS AiMesh technology: It is a unique mesh-networking technology that can generate a whole-home network with the help of many ASUS routers. The router offers simple central control & seamless roaming. Therefore, anyone can set up this with any of your AiMesh-capable routers.
Commercial-grade Security:
Home network security is very important when you use many connected devices. The model can provide lifetime free AiProtection Pro along with the latest WPA3 security protocol & advanced Parental Controls. Every device is protected with RT-AX86U and you will be able to check everything that's happening on the network using the mobile app.
Pros:
AiMesh technology
WPA3 security protocol
Advanced parental control
Cons:
Unable to block a few sites
Best Budget Router Under $100: ASUS RT-AC66U B1
Description: If you are on a tight budget, then you may think that you need to give up some features in exchange for getting a low price model. But, you will be glad to know this ASUS model comes with a lot of features and is available under $100.
Regarding performance, this model is pretty good. The special thing about this best budget router under $100 is that it never supports Wi-Fi 6. Therefore, it runs on Wi-Fi 5 and offers excellent performance. Whereas beamforming helps to boost the performance level. But it does not come with MI-MIMO technology. Therefore, you can experience latency hits when you connect many devices.
Features:
Administrative control: This best budget option comes with a few great administrative controls, which are granular & simple to use. You can control everything through your phone or web client when necessary. The router includes a default network protection suite from Trend Micro.
AiMesh support: The router is compatible with AiMesh technology. However, remember that it can work with only other ASUS devices supporting AiMesh.
Adaptive QoS: This interesting feature of ASUS is a take on QoS which permits the speed to be assigned depending on the priority, like gaming or streaming a movie. As this one is adaptive, your input is unnecessary beyond enabling it. However, it's confusing why they have included Adaptive QoS and didn't pair it with MI-MIMO. But, Adaptive QoS helps to overcome the lack of MI-MIMO. Therefore, it is a useful feature though you cannot use it fully. However, this model can deliver excellent 5GHz performance and is a budget-friendly option.
Pros:
Strong management & control software
Good speed
Lots of connectivity
Cons:
Interface & 2.4Ghz performance is not great
Best Budget Gaming Router— D-Link DIR-882:
Description: This product is one of the most affordable gaming options in the industry. The best thing about this model is it can offer excellent performance without using Wi-Fi 6.
Features:
Antennas: The massive antennas are the most striking thing about the gaming router. Although 2.4 GHz performance could be more interesting at around 150Mbps at 50 feet, the 5 GHz speed is capable of hitting 250Mbps. As a result, it is possible to enjoy gaming at any location in your house without any problems. It can carry over to several activities like 4k streaming, except dealing with disturbing choppiness.
Technologies: If you need a router for gaming, go for this model. While several associated technologies are stuffed in, the major ones are MI-MIMO & QoS, working together to balance the performance. You will be able to get good connectivity with 4 Gigabit Ethernet ports, USB 2.0 & USB 3.0 ports. But it doesn't include Wi-FI 6 and WPA3 technologies. However, the DIR-882 is still able to offer good speeds without Wi-Fi 6. For most cases, some form of WPA2 is perfectly sufficient.
Pros:
Awesome performance
Several connectivity options
A set of features at a low cost
Cons:
Best Gaming Router With Wi-Fi 6E— Netgear Nighthawk RAXE300: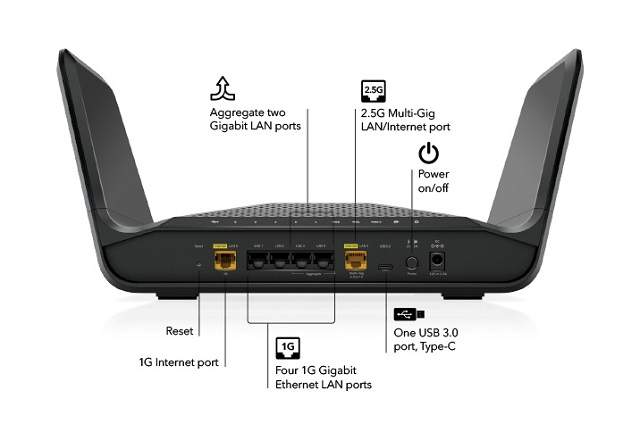 Description: It is the fastest router you have ever used. The product comes in a curvy spaceship design and in matte black color. It is a bit more stealthy than the average gaming gear. Generally, the wings have many antennas for offering a powerful signal throughout your home.
It is a triband router equipped with Wi-Fi 6E support covering 2.4-GHz, 5-GHz, and 6-GHz bands. Using this morel, you can experience seamless speed in Wi-Fi with no issues and it can handle simultaneous gaming and video streaming streams.
Band splitting, guest network options, and a host of analytical tools are offered by the Nighthawk app. The Premium Smart Parental Controls is available at $8/month or $70/year, whereas Netgear Armor is available at $100/year. Netgear Armor offers Bitdefender Security for your devices, whereas if you are outside, you can use Bitdefender VPN.
Features:
Coverage up to 2,500 sq. ft.:
It supports any Internet Service Provider plan for up to 1 Gigabit and includes cable, satellite, fiber, DSL, etc.
Set up:
The Nighthawk app allows you to set up the model  in minutes and enables you to manage WiFi settings at the device & your network level easily. In addition, you can monitor the data usage and test the internet speed.
Smart Parental Controls:
These can help you to promote healthy Internet habits,
and comes with a 30 days free trial.  The router is compatible with WPA2/WPA3 wireless security protocols. It is equipped with Guest WiFi access, DoS, Firewall, VPN, etc.
Pros:
Coverage up to 2,500 sq. ft.
Support WPA2/WPA3 wireless security protocols
Cons:
How did you select these best budget routers?
When it comes to selecting the best budget router, you should consider speeds, ports, area dimensions, & app compatibility.  Let's see the factors to consider while choosing the best budget router.
Speeds: If you are willing to buy a router, ensure that the device you will purchase can move quickly. It ensures that no lags are there when you download files or stream content. You can go with routers that boast quicker speeds with Wi-Fi 6 technology.
Ports: You must check whether the device has many ethernet ports or not that will allow you to connect your devices. Try to buy those models which have multiple ports. These extra points ensure that you can connect more devices.
Area: You must consider the area which you want to power. There are a few routers that you can use if you have a small home & office. Whereas a few models can deliver entire home coverage.
App: When you choose the best budget wireless router, you will see accompanying apps letting you manage the device. These aid in the router's setup.
The bottom line:
Top 5 best five budget wireless routers are covered in this article. You must follow our buying guide to select the right model. Let us know via comments if you have any queries left.
Frequently Asked Questions
What's the fastest speed you can get with a budget router?
The budget category routers are not slow performers. Always remember that it's a misconception.
Is it worth upgrading from the router your ISP sent you?
ISP can send you a modem/router combo for getting you online in the first place. However, sometimes, it can provide the bare minimum in the way of range, the download speed for the plan, and additional features. In case you are looking for an affordable option, you must upgrade this.
Do you need any extra hardware to get online?
When you are willing to connect to a cable network, a router & modem are the two parts you need.