The usage of RGB LED Strips and Lights is increasing daily due to different features of these products, such as energy-saving features and the ability to generate vibrant colors. However, these models offer outstanding brightness and can be used at the office & at home. In addition, you can install these items indoors, and the water-resistant feature of these lights allows you to use the product in outdoor settings.
As technology is upgrading daily, a massive change can be noticed in our lifestyles. Therefore, everyone loves to enjoy the cinematic experience at the home, office, and so on. In this case, they should go for the RGB LED Strip Lights.
Basically, these strips are 30-60ft long. However, people can cut these strips at any length and can install the lights for several purposes. The unique design allows the lights to stand out to another level. You can hang the lights in gaps, small electronic devices such as TV, refrigerator, PC, furniture, and wall hangings.
RGB LED lights & strips have many features, such as programmable options, remote control, and smartphone app navigation. The navigation feature is helpful for users as it allows them to handle the product wirelessly at a distance so that a hassle-free performance can be experienced.
In addition, these lights have various features, including smart music mode, smart app navigation, and a timer. Therefore, selecting the best RGB LED strip is a challenging task. That is why, to help you out in this case, we have elaborated on a buying guide so that you can choose the best RGB LED strip light as per your needs.
What are RGB LED Strip Lights?
So what is RGB lighting? These are color-changing light strips that can create any color shade. These light shades get generated when three primary colors, like Red, Blue, and Green, are mixed up. Hence, the output is based on the controller type. These products can generate pure white light also.
Generally, you will see many RGB LEDs mounted on the strip using four wire traces, 3 for every color and one for a common anode. In addition, the strips have a standard 4-pin connector on the end, and we call this a C4P connector which needs to be plugged into an RGB LED controller. These can generate a cool white light by turning all three LEDs at the highest power. Remember that the white light comes with a noticeable bluish hue, over 6500K. However, the strips can generate several colors. But these come with a few limitations. For instance, these products are unable to create brown or soft pink. You should know that the Controller unit is a dependable factor for the accuracy of colors.
How Do RGB Strip Lights Work?
You should know that the anatomy of the strip light is not as complicated as you think. A light generally comes with about half an inch in width and 16 feet in length. If you want to cut down to specific lengths, you can do so because it will still work the same as before. Every strip comes with clear cutlines, which work as the guide if you are intended to slice up these, and it is possible to do this using a pair of scissors.
After that, you need to mount LEDs along the strips. A single 120-meter strip usually comes with 36 lights on them. The entire strip's light quality relies on the LED quality and its intensity on the strip. In addition, you can find a pre-applied double-sided adhesive on the strip's back side. You can peel off the adhesive so the strip can get stuck on clean & smooth surfaces.
You should consider the flexibility of the circuit boards on the strips before purchasing so that you can curve them around circular surfaces without breaking off anything.
Every LED can generate a staggering 256 shades of this assigned color. So in case you want to use three LEDs simultaneously, you need to have three strips with 16.7 million color combinations. That's why these lights are becoming so famous among people. As soon as you set it all up, you should plug the strip into a power source. Then, you should use the remote control to start playing around with this.
How Can You Control RGB LEDs and Strip Lights?
You have to use an RGB LED controller so that you can get precise colors from these products. These are known as 3-channel controllers because these control three primary colors 'channels' to automatically tune the 3-LEDs for generating the light as you need.
Single-Zone RGB LED Controllers:
You can use the controllers to control LED strip lights. These have a receiving unit that passes through the power and RGB strips using a handheld controller. You should know that the handheld controller enables you to control from 20-30 meters away.
These are available with an RF radio frequency connection or IR line-of-site. Besides, with the help of these controllers, you can control all the connected LED lights. But using these, it is not possible to control several sections independently.
Wi-Fi / Bluetooth Multi-Zone Smart RGB Controllers:
These controllers use a phone app to connect to your smart devices. However, you will find a remote option there. Using the Multiple-Zone support, every RGB remote can connect to many receivers so that you can control several rooms in your house. So, you should use these controllers in your office, living room, and bedroom. Besides, using these controllers, it is possible to adjust Red, Green manually, and Blue LEDs from 0-256 within the phone app.
DMX Controller for RGB LEDs:
You can get unlimited options for controlling RGB lighting using a DMX controller. Remember that these controllers can be small touch panels, wall controllers, or smartphone applications. You can go for these controllers if you require numerous and specific colors. Moreover, a few DMX controllers are there which can manage a lot of channels at once.
RGB Lighting Applications:
So, how to use these lights? You should know that there are many things which you can do using these lights. Moreover, you can use these lights indoors and outdoors, in cars, business establishments, virtually anywhere, and so on. Here, we are going to discuss a few main applications:-
Home Applications:
You can use these products at home for accent lighting, where you need to place them under things so that they can throw off a casting glow. It helps to add an aesthetic touch to your house. People can use these as task lighting, decorations, etc., in different places in several styles. Moreover, these products don't need too much power to work on, which makes these the best ones for home usage.
Business Applications:
These lights are used in bars, restaurants, and shops. They use the lights to attract potential customers. You can place these lights on doors, windows, signage, and walls. Lights that are mostly used for business establishments come with bright colors and flashy displays so that a mind-grabbing atmosphere can be created.
LED Signage:
Previously, these lights were very costly. But now, due to technological advancements, the price of these strips has become very reasonable. Furthermore, you should know that these RGB lights use less power, and you can change it on cue anytime. In addition, these products feature advanced control systems.
Entertainment:
To add a bit of fun and entertainment, disco lights use various colored lights. Thanks to the RGB strip lights, which have transformed the entertainment landscape by adding several entertainment options for nightclubs. Artists who perform live shows use tee-strip lights for stage accents. In addition, artists incorporate lights into their clothing to bring the entertainment level to another level.
Automobile Applications:
When automobiles get involved, RGB lights become very useful. You can install these lights in cars, motorcycles, road bikes, and many more. You can set up these products inside the vehicle to get dim accent lights. In addition, to generate a colored light stream, you can place the lights inside the wheels. Moreover, you can add them in head and tail lights.
RGB LED Strip Ideas:
If you want to use these lights in your home or office, there are numerous ideas that you can try. Here we are going to discuss some of these ideas. Let's check it out.
You can use these lights for wall decorations.
However, you can write a name using these lights if you want.
However, you can set the lights behind the television to turn the room into a cinema.
Users can use these light strips as accent lights for the stairs to add a beautiful touch to your home.
People can also use these best RGB light strips as display case lighting, especially if you own a shop to sell perfumes and other small items that can easily get fitted in small display boxes. You should know that these can boost product visibility of the item and add a more refined look.
Top 5 RGB LED Strips and Lights
Govee Smart Wi-Fi RGB LED Strip Lights: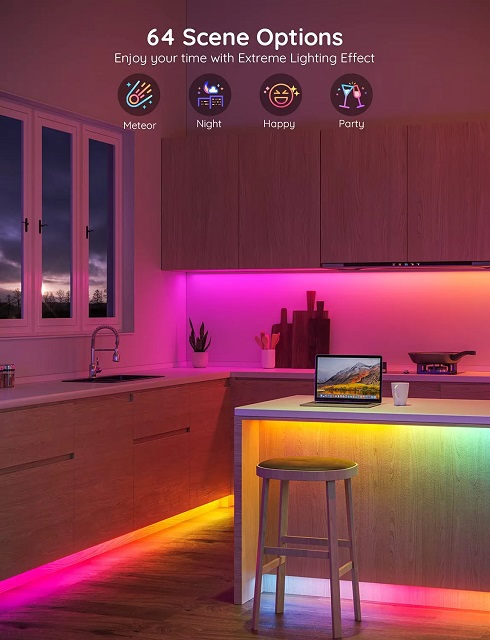 Description: The voice control option of this product leads it to rank at the top position in your list. This feature helps you to control and monitor the lights. With the help of Google Home and Amazon Alexa devices, not only you can turn on the lights or turn them off, but also you will be able to change the brightness and set colors.
Features:
Accessories: The package includes a power adapter, a Wi-Fi Controller, a 32.8 ft light strip with 3M adhesives, and five fixing clips.
Create the perfect atmosphere for a party: Do you want to start your party with your favorite music? Then go for this light to create the exact atmosphere as per the music beats. You can use the default microphone in this case. Hence, your first task is installing the "Govee Home" app on mobile, which is compatible with Android and iOS devices.
Powerful adhesive tape: It has strong adhesive tape to hold the light safely. In addition, this product supports Amazon Alexa and Google Assistant, which can synchronize the light with music.
Control: You will not get any IR remote controller, due to which you need to control this product with voice commands or the smartphone app. The model allows you to set the timer so it can get turned on/off. Besides, it can fix these problems when you can not connect strip lights to the smart app.
12V is the maximum input that you can feed to this device. If you provide an over-the-limit, you may experience a few conditions, including power issues, weak performance, and dim lighting. Above all, we can say what makes the product demanding is its commanding voice option, smart-app navigation, and IR Remote control.
Pros:
Timer mode
Voice-controlled feature.
Smart app navigation.
IR Remote Control
64 scene options
One-year warranty
Cons:
Not compatible with 5GHz Wi-Fi Band
Keepsmile Store LED Strip Lights
Description: The brand tells the quality of the product. As you have already noticed the name of the brand, there will not be any need to explain the quality of the product.
Are you willing to change your room environment using several colors? Then, you should know that you can make it possible with the help of these RGB strip lights. The manufacturing of these lights is performed under high standards. That's why it has become a highly demanding option. This product is ideal if you want to purchase a model for decorating parties, functions, Christmas, weddings, and holiday seasons.
Features:
Accessories: The package includes a 50ft strip light, a remote control receiver, a 44-key infrared remote control, an AC/DC adapter, and a user manual.
Adhesive strips: The product is 50 feet long and has self-adhesive strips which help adhere to the surface appropriately, and no drilling is needed in this case. It is possible to customize the strip lights' length per your needs. In addition, a cutting mark is there along every three LEDs, which makes it possible to cut the lights safely. Moreover, you can use a specific connector's help to extend the light bar to other locations.
Control: You can control the light using a 44-key infrared remote control or smartphone APP. Besides, the product is equipped with a smart timer mode and pre-setting appropriate time. In addition, it has a default sensitivity adjustable microphone.
Pros:
It can be used for several purposes
Smart App & Music Sync
Default sensitivity adjustable microphone
Smart Timer mode
Pre-setting time
Used as an alarm clock
Cons:
If you want to remove the lights, it may strip off the paint. Therefore, you should know that this model is not rental-friendly.
DAYBETTER RGB Led Strip Lights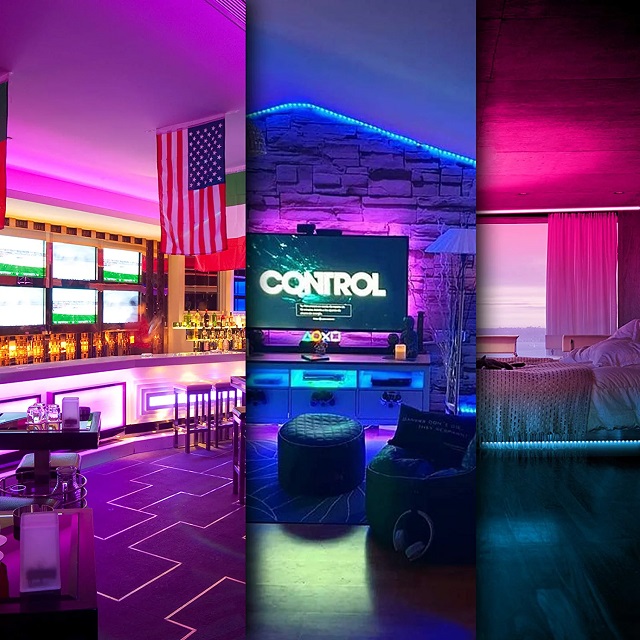 Description: Using these lights, you can make your house more colorful. This product can emit twenty colors for different purposes and can be used outdoors and indoors. Mainly, this model has an IP65 rating for waterproofing.
Features:
Accessories:
The package comes with a Daybetter 32.8 ft LED Strip, a Remote Control Receiver, a 44 Key Remote Control, an AC / DC Adapter, and a User manual.
Usage: As the strips have flexibility, you can cut these as per your demand. Whereas the availability of connectable options enables you to use this for many purposes such as decoration, birthday parties, live events, reality shows, etc. However, these models are less tolerant to heat, unlike other models. These are safe to touch for kids.
Adjust brightness: You can change colors and manage the brightness blink with the help of the controller that you can get in the kit. In addition, users will get a remote with 44 buttons for different colors. Besides, it is possible to change the lighting speed and manage brightness. This model is perfect for adding more fun to your party. Just turn on the music and dim the lights to make your party enjoyable. But it has a drawback: users can't access & monitor these lights using their smartphones.
Pros:
Easy installation
20-colorful variations.
18-month warranty.
44-key Remote with programmable Buttons.
IP65 waterproof material
Good flexibility
Color-changing visuals.
Cons:
No smartphone integration.
MINGER RGB LED Strip Lights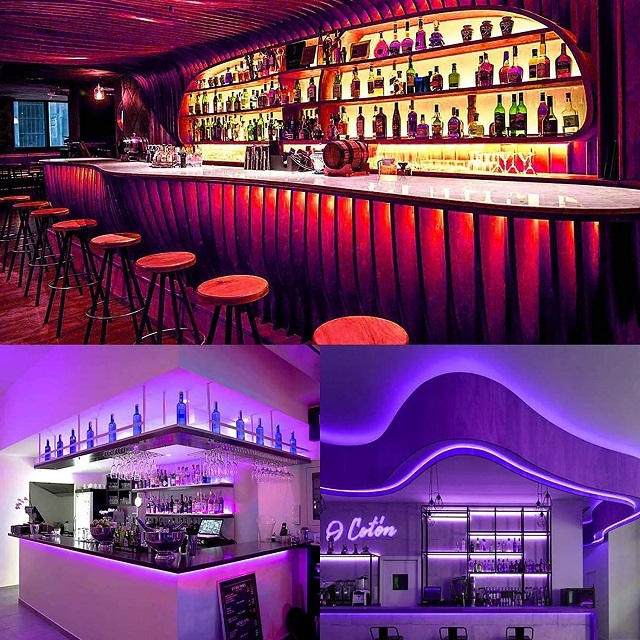 Description: This is one of the high-quality models from the most reputed brand MINGER, which manufactures top-quality electronic goods. Indeed it is costly, but it is perfectly suitable for decorating indoors-kitchen, dining, living, and bedrooms.
The package includes a Minger LED 16.4 ft LED Strip, a Remote Control Receiver, a 44 Key Remote Control, an AC / DC Adapter, and a User manual.
Features:
Different variants:
If you look at the kit, you can have two variants— a 16.4 ft strip and a 32.8 ft strip. Remember that the price may vary because it depends on the length of the model which you have selected. These strips have a 44-key remote controller, power adapter, connectors, and adhesive tape used for smooth functioning.
LEDs: You can see 150 5050 SMD LEDs in the 16.4 ft strip, whereas the other one comes with 300 5050 SMD LEDs. Doing a simple cut of every 3 LEDs will help to operate the strip safely without causing any damage to the strip. You should know that the IR controller works as an interface between LED strips and the power adapter, which plays a vital role in accurately monitoring the actions and functions. The product regulates the power supply and feeds to the strips so that different colors can be viewed. If you feel irritated after using cheap LED strip lights, go for the best option.
Different colors: The 44-key IR Remote comes with the regular 20 colors and 6 DIY colors, which are programmable as per your need. But you should know that no smartphone integration is there.
Above all, we can say that this model will definitely impress you. This product comes with twelve months of hassle-free warranty. But ensure that you are not allowing your kids to play with these lights when it is working.
Pros:
44-key IR Remote
Hassle-free functioning.
Perfect for home decoration.
Available at budget-friendly prices
Simple installation
12 months of warranty.
Cons:
No smartphone integration.
Tenmiro Ultra Long RGB LED Strip Light Kit
Description: These lights are perfect for those who are willing to immerse themselves in a cozy ambiance. This product is an ideal option if you want to purchase a model for your bedrooms, kitchen, cabinet, TV backlighting, living rooms, family events, parties, or holidays. The strip light is 65.6 ft long.
It is possible to adjust the strip brightness as the model can provide several colors. Besides, you will get their eight lighting modes. Moreover, this product comes with a simple remote controller that has 44 keys. Therefore, you can cut the strip easily and link it up with other strips. This model permits you to cut each three LEDs along the cutting marks. Besides, with the help of this product, you can customize the light's length.
Features:
Accessories: It includes four 16.4 ft LED light strips, a power adapter, a 44keys IR remote control, a controller, an instruction manual, and the instruction accessories, including back adhesive hooks, gapless solderless connectors, and 4-pin connectors.
Installation: These are IP20, non-waterproof. Before you install the models, you need to wipe the surface where the lights need to be installed and then keep this to become dry. After that, you should tear the strip. Next, you must connect this to the surface and hit the strip firmly so it can fit appropriately. The back adhesive helps you to stick the strip easily, and thus you can illuminate the place properly.
Scene mode: Its DIY permits you to generate any lighting mode so that you can enjoy the lighting as per your mood.
Pros:
Safe to use
Energy saving
Over 50000 hours of lifespan
Simple installation
Good flexibility
44-key IR remote for long-distance control.
Cons:
No smartphone integration.
Buying Guide— How to Choose the Best RGB LED Strip Lights:
The strip lights are becoming famous daily due to their vibrant looks and modern lifestyle. Furthermore, as these lights consist of eco-friendly materials, they consume less power. What is interesting about these products is that the lights are available at affordable price ranges. Therefore, selecting the best one for bedrooms, living, or dining rooms may be complicated. So, to help you in this case, we have given here a buying guide letting you know the several factors that need to be kept in mind while purchasing.
Check for Indoors and Outdoors:
The factor which you need to consider first is to determine why you should use these strip lights. You can use these lights for parties, live events, cultural programs, home decoration, and outdoor gardening. Have you decided already how you want to use it? In this article, we have given the Top 5 RGB LED Strips And Lights. So, you can pick one of them as per your budget and other requirements.
Length of the Strip and No. Of LEDs:
Remember that LED strips' lengths vary from 5-10meters. Therefore, you can mount these lights on walls, table tops, and other surfaces. In addition,‌ you should know that the strip length can change from 150-300 LED depending on the usage. So, if you want, cut strip lights 2-3; after that, you can place these for interior decoration. So, we can say that the LED number and strip length are dependable factors.
LED Strip Colors:
These products are available in various color options. For instance, you can get the strips in white colors or multi-colors. In addition, the LEDs come in different white shades, such as warm, neutral, and color. Whereas the multi-colors are a mix of the standard RGB colors like red, blue, and green. However, changing the strip color (from single to multi colors) is possible using a controller or a smart app. Whereas few models enable you to switch the color modes as per music.
Quality of the Material:
It is also another factor that you need to consider before purchasing strip lights. The reason for that is it can provide a clear idea of the product's working process, meaning how long it can work effectively In the future. In most cases, these lights consist of double-sided copper material, which can help to boost performance. The material can tolerate extreme conditions also. But lights which consist of plastic material can get damaged very fast due to poor construction. Besides, these kinds of strip lights consume more power.
LED Strip Wattage and Powering:
There are a few models which come with replaceable batteries. So, when you use battery-operated LEDs, there is nothing to get worried about regarding electrical consumption. However, in most cases, these products come with an electrical cord. Therefore, ensure that an electrical socket exists at the location where you want to set up the light. Besides, you need to check the amount of power consumed by the lights.
Considering the wattage factor allows you to understand the power consumed by the lighting system. Whereas a few brands show the wattage per length, others show the overall wattage. Suppose you choose a model displaying the wattage per length. Then, you should multiply the value by the strip's overall length.
After that, your task is to check whether the power supply at your home matches the LED strip wattage or not. The primary rule is to connect these to a power outlet with a minimum of 10% more wattage than the LED strip wattage. This is because most LEDs support a 12V or 24V direct current.
Power Supply:
You must have enough amount of power supply which is essential for running the strips. In case you induce more power to your devices, these lights can work more due to the energy-saving technology. But if you don't know about these strip lights, you need to ask the authorities to know the products' benefits, drawbacks, and usages.
Water and Weatherproof:
Waterproofing is a type of technology that is incorporated into the strips to denote the ability of the product to work against water & rain. But it never indicates that you can put these lights in the water.
Ensure that you avoid these experiments because they can diminish the product's lifespan and performance. Its weather-resistant feature enables you to use the device in lousy weather also.
Shock-Resistant Nature:
This one is one of the vital features which you need to consider. If any electronic product is shock resistant, it means that the model is 100% shockproof. This feature safeguards your kids and family members. Unfortunately, in most cases, devices cannot embed the feature in LED strips due to technical problems. However, you should know that a few famous brands manufacture such models with shock-resistant features. Its primary focus is to protect these devices from dangerous threats. Therefore, you should select the best model to improve performance and add beauty to your home interiors.
Smart App Connectivity:
Earlier models are plugged into the power supply to make your indoor space beautiful. But as the days passed, technology improved. Therefore, people want to handle all things only using a single click. In such cases, you should go with those strip lights which feature a smart app controller. You can use Bluetooth or Wi-Fi technology to connect them to create strong communication and monitor them easily within a distance.
Price and Warranty Details:
While purchasing something, we usually stick to our budgets and select the product accordingly to our price range. Of course, if you are willing to go with standard models, then you need to invest more money. But these products' performance, lifespan, and robust design quality will definitely overwhelm you. In addition, ensure that you have checked the warranty information.
Conclusion:
In this article, we have discussed what RGB LED lights are, why they are used, their applications, tips for using them, and so on. We hope that after checking the buying guide and the best five models, you will be able to select the best model as per your requirements.
Frequently Asked Questions:
How do you install LED strip lights?
These models have strong adhesives and cutting marks in the strip. So, in this case, a user only has to cut through the marks, but it can depend on the required length. After that, you need to use the adhesive to paste these on the wall. At last, your task is to connect them to a power source.
Which LED strip should you choose?
Before purchasing, you need to check the total length and the number of LEDs per length. You need to choose such a strip that comes with more LEDs, as the brightness depends on the number of LEDs. Most of the LEDs come with an option using which you can adjust the brightness level. If necessary, lower the brightness. In addition, you have to check extra features of the model, like color-changing modes, timers, and smart music color modes.
What is RGB LED used for?
You can use these products in kitchens, studies, porches/entrances, pathways, and driveways. Besides, these are the perfect choice for atmospheric lighting throughout your house.